By the year 2040, anything and everything that can be tagged with a wireless identifier will probably have one (or more). Tiny, wireless electronic devices that are attached to an object to connect it to the Internet of Things. Wireless identifier may be too restricting of a name…by that time, these devices could do a lot more than just identify an object, they could relay data on size, shape and location or receive instructions on what to do next. These devices might be powered by light, motion, radio waves, biopower or some other means. Bigger devices control the smaller ones, and they all talk together, according to a new infographic by FutureforAll.
The infographic examines what the Internet of Things for healthcare applications might be like in the year 2040.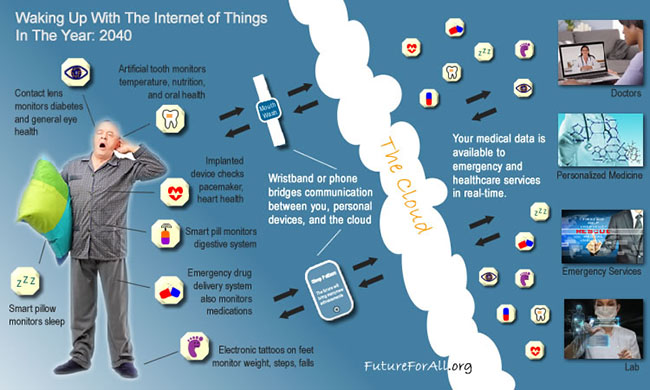 The financial, physical and emotional toll of pain on the United States is excruciating, but Relieving the Costs and Consequences of Chronic Pain: A Best Practice Multimodal Approach offers an antidote for the 25 percent of Americans suffering daily from chronic or persistent pain and the healthcare organizations that treat them. Featuring contributions from two of pain management's foremost experts, this special report offers multi-faceted strategies in pain assessment and management to improve quality of life for the chronic pain patient, reducing healthcare utilization in the process.
In this 35-page report, Marilee I. Donovan, Ph.D., R.N., regional pain management coordinator, Kaiser Permanente Northwest, and Cheryl Pacella, D.N.P., R.N., performance improvement advisor at MassPro, describe patient-centric pain management tactics that engage the patient as an active partner and employ creative and alternative therapies and interventions.
Get the latest healthcare infographics delivered to your e-inbox with Eye on Infographics, a bi-weekly, e-newsletter digest of visual healthcare data. Click here to sign up today.
Have an infographic you'd like featured on our site? Click here for submission guidelines.