More than 800 HR professionals were recently surveyed by Mercer, an Oliver Wyman sister company, on what the Trump administration should prioritize when it comes to health and benefits policy. Respondents also shared their views on what they would like to see replace the ACA.
A new infographic highlights the survey results on these healthcare priorities and an ACA strategy.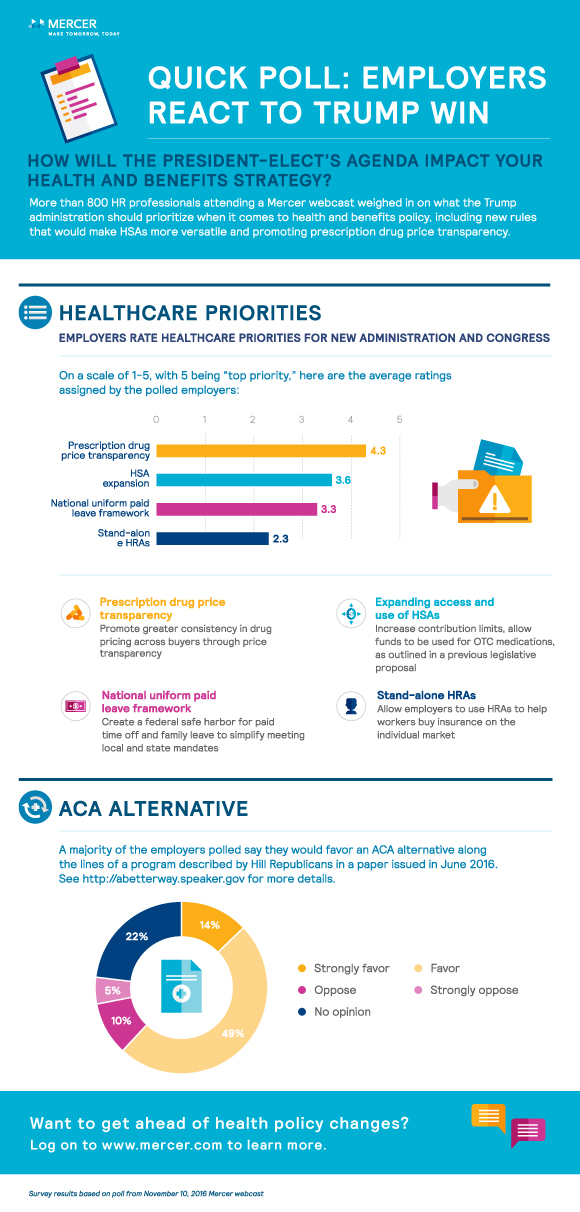 Not in recent history has the outcome of a U.S. presidential election portended so much for the healthcare industry. Will the Trump administration repeal or replace the Affordable Care Act (ACA)? What will be the fate of MACRA? Will Medicare and Medicaid survive?
These and other uncertainties compound an already daunting landscape that is steering healthcare organizations toward value-based care and alternative payment models and challenging them to up their quality game.
Healthcare Trends & Forecasts in 2017: Performance Expectations for the Healthcare Industry, HIN's 13th annual business forecast, is designed to support healthcare C-suite planning during this historic transition as leaders prepare for both a new year and new presidential leadership.
Get the latest healthcare infographics delivered to your e-inbox with Eye on Infographics, a bi-weekly, e-newsletter digest of visual healthcare data. Click here to sign up today. Have an infographic you'd like featured on our site? Click here for submission guidelines.
Tags: Affordable Care Act, health benefits, Healthcare Trends, healthcare under Trump administration
Related Posts: