More than two-thirds of children's hospitals consider population health a top priority, according to a new survey by the Children's Hospital Association (CHA).
A new infographic by CHA examines the defined populations for which hospitals have aligned payment models for population health management, funding sources for population health programs, the percent of organizations with risk-based contracts and the need for reliable data for population health management.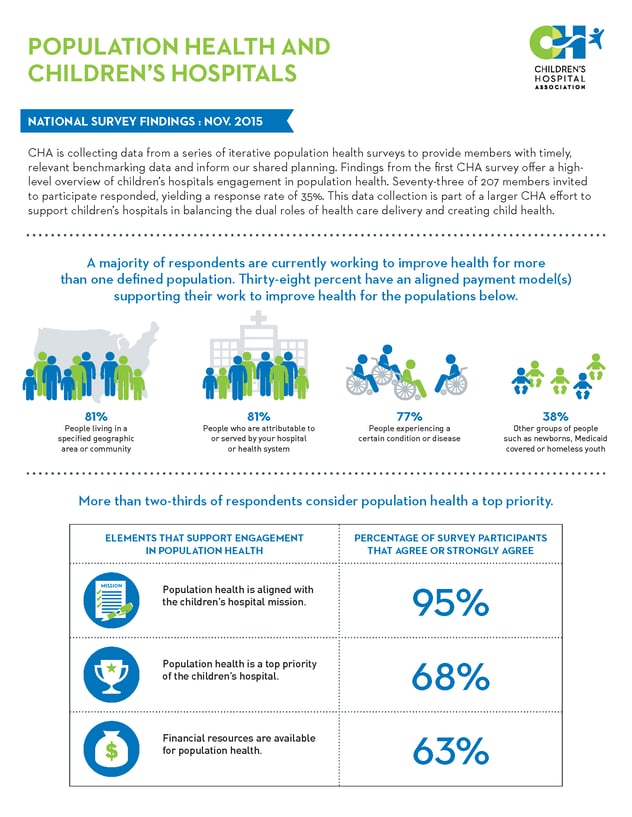 Population health management remains a top-ranked healthcare development opportunity, according to 2016 industry trends data from The Healthcare Intelligence Network, with many organizations deriving clinical and financial gains from population health's data-driven, risk-stratified care management approach.
2016 Healthcare Benchmarks: Population Health Management drills down on the latest population health management (PHM) trends, including the prevalence of PHM initiatives, program components, targeted conditions, PHM care team members, challenges and ROI.
Get the latest healthcare infographics delivered to your e-inbox with Eye on Infographics, a bi-weekly, e-newsletter digest of visual healthcare data. Click here to sign up today.
Have an infographic you'd like featured on our site? Click here for submission guidelines.
Tags: healthcare risk sharing, payment models, Population Health Management
Related Posts: