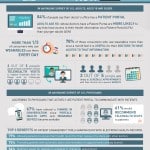 Eighty-four percent of people say their doctor's offices have a patient portal, according to a new survey commissioned by eClinicalWorks and conducted online by Harris Poll among over 2,000 U.S. adults, in March 2015.
Of those whose doctors do have a patient portal, adults age 55+ (61%) are more likely to access their health information via this tool than adults age 18-54 (45%).
eClinicalWorks® has released an infographic on the study results, which also examines wearable use, online patient scheduling and physician-patient communication via online portals.
The world of digitally enabled care is exploding: the number of patients using telehealth services will rise to 7 million in 2018, according to IHS Technology; healthcare apps and 'wearables' are trending in technology circles and healthcare providers' offices; and CMS's new 'Next Generation ACO' model is expected to favor expanded telehealth coverage.
2015 Healthcare Benchmarks: Telehealth & Telemedicine delivers actionable new telehealth metrics on technologies, program components, successes and ROI from 115 healthcare organizations. This 60-page report, now in its fourth year, documents benchmarks on current and planned telehealth and telemedicine initiatives, with historical perspective from 2009 to present.
Get the latest healthcare infographics delivered to your e-inbox with Eye on Infographics, a bi-weekly, e-newsletter digest of visual healthcare data. Click here to sign up today.
Have an infographic you'd like featured on our site? Click here for submission guidelines.
Tags: patient portals, Telehealth, virtual visit
Related Posts: