A healthcare model providing care at a high cost and with high rates of emergency department utilization, no matter the level of quality, is not sustainable, according to a new infographic by Phillips.
The infographic provides an assessment of acute unscheduled care, the demands on acute care providers, and use of the emergency department across 7 countries: Australia, Canada, Germany, the Netherlands, Switzerland, the United States, and the United Kingdom.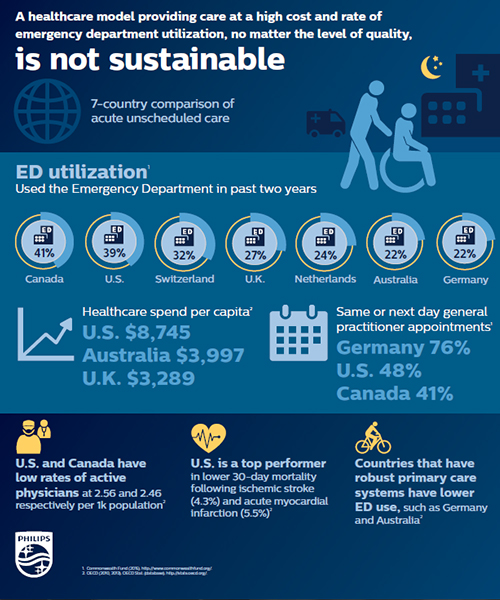 In the sphere of value-based healthcare, chronic care management (CCM) is a critical component of primary care and population health management. Targeting the Triple Aim goals of better health and care for individuals while reducing spending, CCM is viewed as a stepping-stone to success under Medicare's Quality Payment Program that launched January 1, 2017.
2017 Healthcare Benchmarks: Chronic Care captures tools, practices and lessons learned by the healthcare industry related to the management of chronic disease.
Get the latest healthcare infographics delivered to your e-inbox with Eye on Infographics, a bi-weekly, e-newsletter digest of visual healthcare data. Click here to sign up today.
Have an infographic you'd like featured on our site? Click here for submission guidelines.