The new Physician Quality Metric Consensus Set, released by the Centers for Medicare & Medicaid Services (CMS) and America's Health Insurance Plans (AHIP), is a common set of quality measures from several current measurement sets. These sets were identified by healthcare systems participating in the federal Core Quality Measures Collaborative. Many healthcare providers are already collecting most of these measures, though there are modifications to several, according to a new infographic by Oliver Wyman.
While there is substantial overlap between the Consensus Set and existing STARS and QRS measure sets, providers also need to take heed that the next few years will be a time of flux for physicians as additional Consensus measures are developed and STARS and QRS migrate toward these. The infographic, researched by Oliver Wyman's Health & Life Sciences Provider team, shows the degree of overlap between the proposed and current measure sets.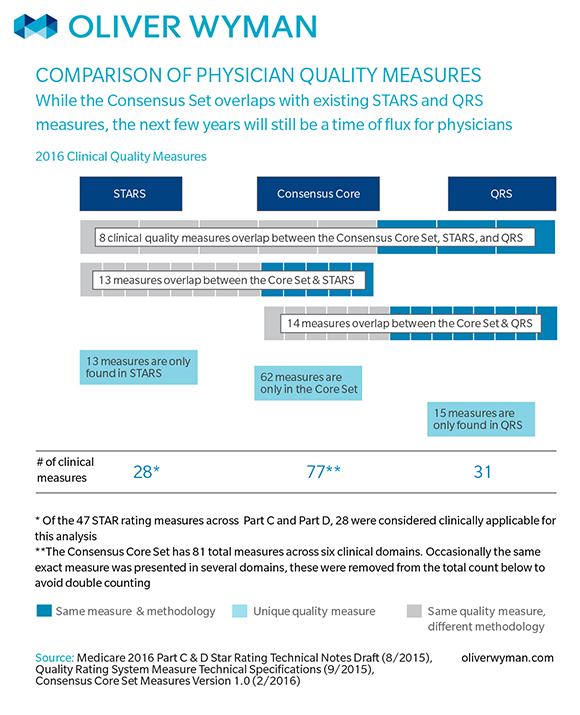 With more than a quarter-century of experience with value-based reimbursement models, Humana is ideally positioned to help physician practices navigate the transition from fee for service to fee for value. The payor's multi-level Accountable Care Continuum rewards physician practices for care coordination of Medicare beneficiaries along the population health spectrum.
Physician Value-Based Reimbursement: Quality Rewards for Population Health describes the four tiers of Humana's Physician Quality Rewards program as well as the support, training, technologies and outcomes associated with these pay-for-value relationships.
Get the latest healthcare infographics delivered to your e-inbox with Eye on Infographics, a bi-weekly, e-newsletter digest of visual healthcare data. Click here to sign up today.
Have an infographic you'd like featured on our site? Click here for submission guidelines.
Tags: physician quality measures, quality measure sets, quality measurement
Related Posts: