Healthcare organizations are recognizing the value of integrating medical device data for comprehensive and timely data analysis to drive informed clinical and operational decisions, according to an infographic by Capsule, a Qualcomm Life company.
The infographic highlights the power of a vendor-neutral medical device information system to go beyond sending data to an EMR by automating the capture and sorting of the voluminous amount of data gathered from medical devices. Then, through integration capabilities, specific data can be shared with other healthcare applications and systems for alarm notification, patient surveillance, clinical decision support, and even the management of the device assets themselves, helping to improve patient care.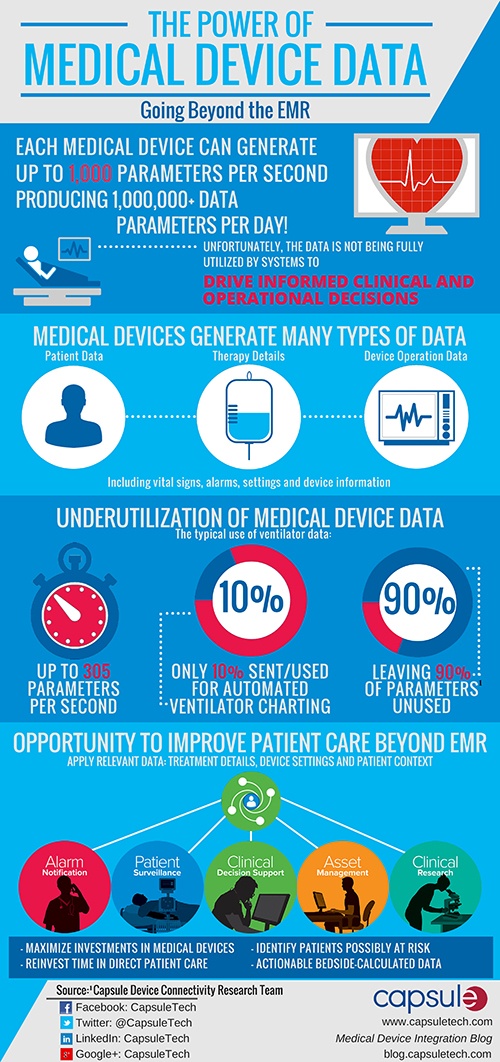 As quality and value increasingly drive healthcare rewards, the generation, sharing and analysis of patient data is a prerequisite for organizations desiring to enhance clinical outcomes and drive down cost. Yet the burden of creating infrastructure to support health information management deters many payors and providers from fully engaging in a robust business intelligence strategy.
2016 Healthcare Benchmarks: Data Analytics and Integration examines the goals, data types, collection processes, program elements, challenges and successes shared by healthcare organizations responding to the January 2016 Data Analytics survey by the Healthcare Intelligence Network.
Get the latest healthcare infographics delivered to your e-inbox with Eye on Infographics, a bi-weekly, e-newsletter digest of visual healthcare data. Click here to sign up today.
Have an infographic you'd like featured on our site? Click here for submission guidelines.
Tags: clinical data, Data Analytics, data integration, data warehouse
Related Posts: